The Chicken Run - 06/09/2002
- or -
This is about two degrees shy of miserable.
---

Ever year, the local Harley dealer, Latus Motors, sponsors a little gathering called the "Chicken Run". I don't know why they call it that, but I do know that if I pay them $20, they'll give me a t-shirt and some lunch... if I go on a long ride with them.

Food in my stomach and clothing on my back... sounds like a plan!

The money all goes to charity (after, of course, clearing costs, paying for law enforcement "protection", and buying the secretary something naughty from the Erotic Boutique).

The plan was to meet on Sunday, 06/08/02 sometime in the morning and start the ride around 10 am.

The weather was a little crappy, but being the guy with high hopes that I am, I managed to squint really hard at the horizon until I was convinced I saw some blue sky coming, threw on my leathers, and jumped on my bike at 8 AM to get some breakfast and a good spot in line for the ride.

Here's how things worked out:


At Latus Motors around 8:35 AM. Not many bikes here yet.


A few more have shown up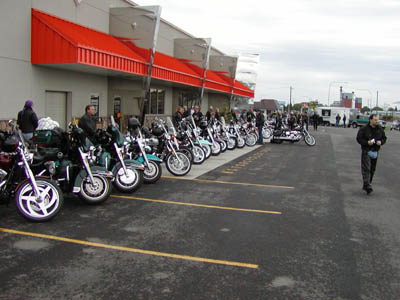 And a few more (that's my friend Dan to the Right)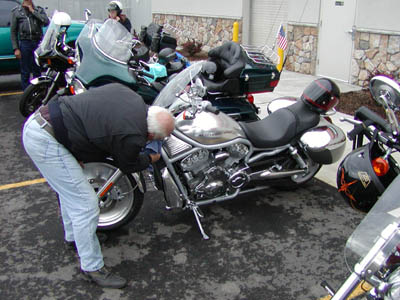 This guy was removing a few spots of road grime from his V-ROD. This turned out to be a waste of his time considering what was going to happen to the weather right before the ride started


A beautifully restored hard-tail.


---